Criminal Law
Bail Applications Victoria – What you need to know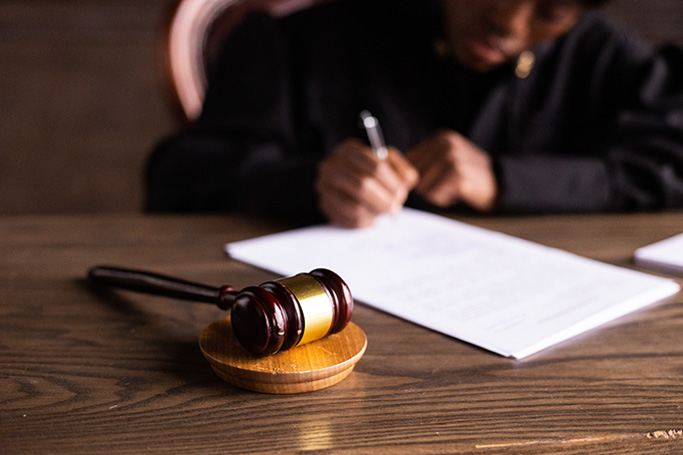 Some people are granted bail by police at the time of their charge. Those who are refused bail and remanded into custody may apply for bail in the Magistrates' Court of Victoria. There are numerous reasons someone may be refused bail.
Reasons for being refused bail include:
The seriousness of the offence;
The requirement under the Bail Act 

1977

that a judicial officer (rather than a police officer, for example) make the decision of whether to grant bail; or
The police being of the view that the person charged poses an unacceptable risk of:

Failing to attend Court;
Committing an offence;
Interfering with a witness; or
Endangering the welfare of any person.
At Galbally & O'Bryan, our experienced criminal law department, led by partners Paul Galbally, Kartya Gracer and Catherine O'Bryan, handles bail applications regularly. Our bail lawyers are well-equipped to take on any case and provide the highest quality legal advice with respect to a bail application. Contact us to find out more.
Bail Application Timing
Once someone is refused bail, it makes it very difficult to apply again in the future. In some situations, a speedy application is critical. In others, a decision to wait may provide the best opportunity for bail to be granted. Our criminal lawyers are experts and understand that the timing of a bail application may well be the most crucial decision they make in a client's endeavour to achieve bail.
Bail Application Preparation
The preparation of a bail application involves assessing what concerns the Court may have about a particular person. Factors that assist in a successful application is providing proof of:
A surety being available;
Stable and safe housing;
Employment being available; and
Treatment and support plans should the accused have any substance or mental health problems.
At Court - Bail Application Tests
Under the Bail Act 1977, the Court applies three different tests to assess whether a person is appropriate for bail.
1. Prima Facie Entitlement
This means that every person has a prima facie (on first impression) entitlement to bail. Bail must be granted unless the prosecution is able to satisfy the Court that the person poses an unacceptable risk of:
Failing to attend Court;
Committing an offence;
Interfering with a witness; or
Endangering the welfare of any person.
2. Show Compelling Reasons
This means that a person must show cause to justify their application for bail. If satisfied, the Court will find the person to be an acceptable risk. The Court will look at things such as:
A person's personal circumstances;
The support they have in the community;
How strong the evidence is against them; and
Whether they are likely to be sentenced to a term of imprisonment should they plead guilty to the charges.
3. Exceptional Circumstances
This means that a person must show that there are exceptional circumstances supporting their bail application. The Court will consider matters similar to those made out above in the Show Compelling Reasons test, but here the requirements are much more stringent.
 
Our experienced criminal lawyers will know which test will be applicable, and their advice will follow based on that.
Expert Bail Application Lawyers Melbourne
If a friend or family member has been remanded into custody, contact us on (03) 9200 2533, or email any one of our partners:
How to contact our Office
Melbourne Office
259 William Street
MELBOURNE VIC 3000
T (03) 9200 2533
E enquiries@galballyobryan.com.au
 
Dandenong Office
Shop 9/147-151 Foster Street
DANDENONG VIC 3175
T (03) 9769 2510
E dandenong@galballyobryan.com.au
 
Pakenham Office
Shop 1, 15 John Street
PAKENHAM VIC 3810
T (03) 5941 7990
E pakenham@galballyobryan.com.au
 
The information on this website is of a general nature only and may not reflect recent changes to certain areas of law. It should not be relied upon as a substitute for discussing your situation with a qualified legal practitioner. Contact us for more information.