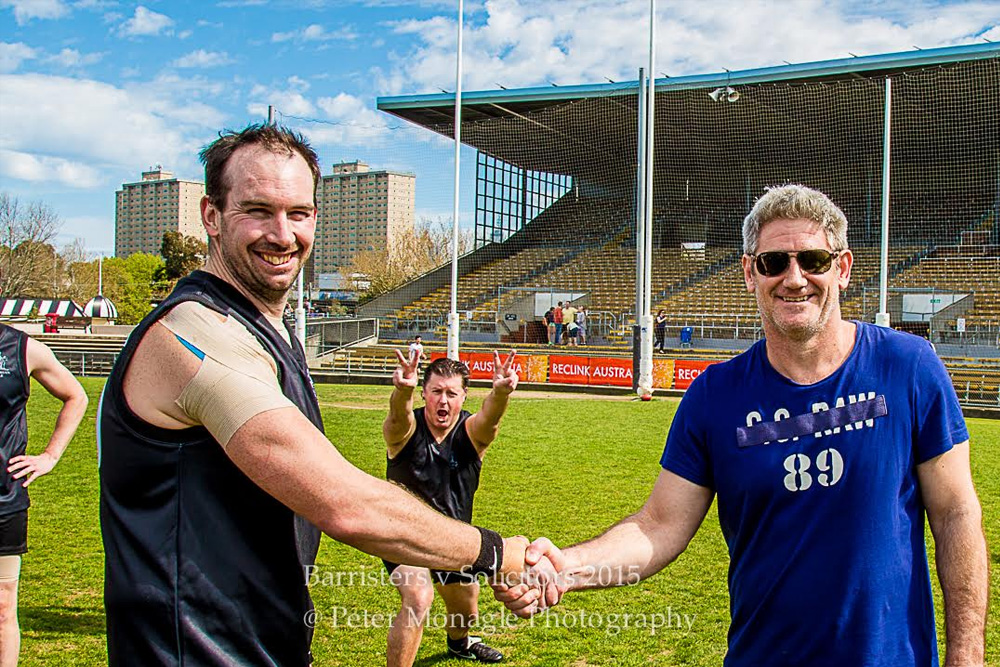 Reclink Galbally Cup
The 10th anniversary of the Galbally Cup Charity Football Game was this year played at Victoria Park on 13th September, 2015.
The Galbally Cup is named in honour of Frank Galbally, a founding partner of Galbally and O'Bryan and involves a football match between Victorian Solicitors v Barristers to raise money for Reclink Australia.
This year the teams were coached by Essendon and AFL great Simon Madden who generously gave his time to be involved on the day. Once again the Solicitors prevailed (11.12.78) proving too talented for the Barristers (5.9.39).
This years event raised approximately $32,000.00 which will be used by Reclink Australia to provide and promote activities and participation in sport and art programs to people experiencing disadvantage. The communities targeted by Reclink include people with mental health problems, disability, homelessness, substance abuse or significant economic hardship. Established in Victoria in 1990 Reclink operates nationally and provides over 4,500 activities and 80,000 participation opportunities annually to those in need of assistance.
Galbally and O'Bryan are proud to support Reclink and acknowledge the generosity of donors including participating Barristers, Solicitors, the Reclink team and many others who helped make the day a great success.
For further information about Reclink and its activities go to www.reclink.org
Images from the Galbally Cup Charity Football Game